Does social media help with your exposure?
Avit Media | October 21, 2019
Simple answer, yes.
Social media has grown massively in the recent years, and will continue to grow in the upcoming years, but video content has exploded in growth. Video is quickly becoming consumer's favourite kind of branded content on social media. Increased views on YouTube, Facebook, Instagram & Twitter have skyrocketed, and the numbers are big. REALLY BIG!
"I see video as a mega-trend," Facebook CEO Mark Zuckerberg, February 2017.
It's said that Twitter users are six times more likely to retweet a video than a photo. Views on YouTube have increased by 99%… and Facebook videos? By a whopping 258%! So why wouldn't you want this for your small business, brand, company or service?
At 'AV IT Media, we love what we do! We are passionate and we inject that passion into every product we create. When we create something we are proud, and for us, seeing our work on social media and getting great reactions out of it only drives us further! There's a seductive simplicity of gazing at visual content without having to read it.
Just from our own social media, we are aware we can reach over 3,000+ people within 24 hours, this isn't including 'boosting' or sharing through other people, this is through the organic nature of social media. Video advertising can be spread on the Internet in a matter of days, getting millions of views. And this is the whole point of video marketing; only the creative survive! More than 2.7 billion users access Facebook; that's 2.7 billion possible views; 2.7 billion possible clients! That is more than one-third of the entire worlds population. Where else would you be able to access that many potential audiences?
Social media can often get a bad reputation, but when it comes to small businesses, brands, companies or services we couldn't urge you more to jump onto the trend of video marketing. If it's a company of any platform, corporate events to commercial advertising… 'AV IT Media cater to all the needs of a social media video. We are aware of all time limits, specifications and requirements on all platforms, even the screen ratios for your Snapchats & Instagram stories. All these platforms use video differently and they all have their own social context that needs to be respected and taken into consideration. Over 100 million hours of video are watched on Facebook everyday, people use it to be entertained, so why not entertain them with your small business, brand, company or service, with a high-end professional video, unique to you.
72% of businesses which use video marketing say it's increased website conversion rates, it has helped to boost sales, engage buyers and encourages shares, which draws in more of an audience, and in return can only lead to one thing; more clientele. We asked some of our clients what they gained from our video content on their social media, here's what they had to say;
Rachel Haywood – Ask the Chameleon 
"When I needed videos for my business the first company I thought of was 'AV IT.  It was important to me that the videos captured me and my business but also separated me from the herd! I wanted to ensure we stood out, and that people understood who we are and what we do instantly.  And this is exactly what 'AV IT have achieved.  The videos are a perfect representation of the business, enable people to understand what we do and how we can help other companies to grow. The videos also provided an insight into how we work. They are a valuable marketing and promotional tool, but they have secured us business and people have remarked on them (and the fantastic photos the team have taken) when we have been out and about at networking. I would not hesitate to recommend them, they take your ideas and ensure that you make the most of this important medium to maximise your exposure. They are simply the best!"
Amandeep Budwal – VET Dynamics 
"When it comes to having video footage from your event, 'AV IT have always been fantastic at filming, producing, editing and supplying us with great material and not only that but also having same day edits – bonus! Video plays a big part in digital marketing and having something like this, not only to share with delegates who attended the event but also for prospective clients to see, is brilliant. Video's always get us good engagement and it's great exposure for us as a company to showcase what we are all about and how we help support the people in our profession. The team at 'AV IT are lovely and easy to get on with, they listen to what is required and are professional in their job and with the work they produce."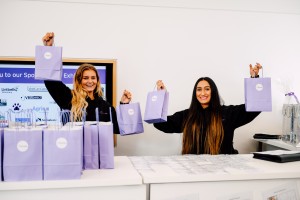 I know for us, we will always go to social media when wanting to find out more about a company, product, event or service, which is also what over 30% of customers would do too before going to a website, which leaves your social media as the 'make or break' decision for the viewer, because that's where you find the truth and it really helps the viewer to gain trust with you. That's why we enjoy creating behind the scenes videos of our 'AV IT team, so that our clients & potential customers can get to know us too.
Bottom line: there is a ton of video going on right now, and it's the number one way to capture the attention of the audience you're going after for your small business, brand, company or service. Your content says a lot about you. Step yours up a notch with visuals that make you stand out from the crowd with 'AV IT Media.