East Midlands Chamber Awards 2020
Avit Media | November 30, 2020
'AV IT! Media have been the photographers of the Business Awards for the past 3 years and this year would've been our fourth. However, with the cancellation of events in 2020 because of the pandemic this year's awards was as risk of not going ahead.
So, we put our heads together and with our previous experience of working in TV and cinema, we pitched the idea of pre-recording the awards ceremony and broadcasting them live on YouTube as a premier event.
After throwing a few ideas around between us and Linsey Hardy from the Chamber on how to announce the winners, feature the sponsors, film the awards and who should appear at the ceremony, we were given the green light to proceed. 
We teamed up with the Conference Works to plan the design and build of the set, as well as to the lighting the stage and recoding the sound. We've worked with The Conference Works on many events in the past and it was a no brainer that we should involve them in this project.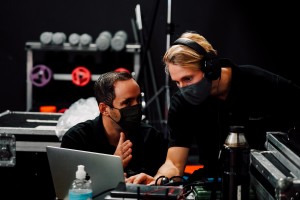 We then had to make sure that the set was a closed set so that no information about the winners was leaked to the public and that the set was also COVID secure. We had a risk assessment done in order to make the set COVID secure, which led to us implementing a one-way system throughout the studios including the stage area. Separate waiting areas we setup for any guest presenting at the ceremony, to get them socially distanced from each other. Temperatures were taken before entering the set area and cameras were placed 3 metres from the stage itself.  There was also no passing and handling of the microphones or awards on the day.
Linsey Hardy also worked along side us at 'AV IT Media in organising and the scheduling of the filming day. This partnership between ourselves, The Chamber and The Conference Works led to a successful production of all three ceremonies being shot in a single day, and keeping everyone within a safe working environment.
"This year's Business Awards have been quite different to the historical events the Chamber run… But, the team were determined to bring something different and showstopping to the entrants, finalists and sponsors who have shown such support for the awards.
With the help of AVIT Media we were able to organise a COVID secure filming day which was fantastic to see some of our sponsors who were able to take part. It was great fun being behind the scenes working with Ash and Mark, and felt even more at ease as I was able to be involved in the final editing of the video. But, what pleased me most is that thanks to the pre-recorded concept, all Chamber members and those outside membership can also get involved and watch – previously we have been restricted by venue capacities.
During this year's pandemic I would definitely say it's been a learning curve, and thankfully the team at AVIT Media have been on board to advise and help us create something which we can all be proud of." – Linsey Hardy (Commercial Events Manager)